Frito-Lay's standoff with Loblaw drags on, opening a window on how Big Food is fighting inflation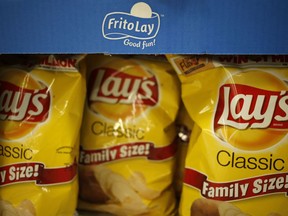 PepsiCo Inc, the parent of Frito-Lay's, hasn't sent brands from its food division to Loblaw's network of more than 2,400 stores since Feb. 12. Photo by Luke Sharrett/Bloomberg
Loblaws and Frito-Lay are still fighting over the cost of potato chips, more than six weeks after the snack giant cut off Canada's largest grocer for refusing to pay a higher price for its product.
The standoff has opened a window into the private negotiations between grocers and suppliers, at a time when both sides are grappling with the most intense period of inflation in a generation. It's not totally uncommon for suppliers to stop shipments when negotiations break down, though the disputes are usually resolved within a matter of days or weeks — often before consumers start noticing.
PepsiCo's food division is made up of Quaker Oats Co. and Frito-Lay, an expansive roster of products that includes Lays, Doritos, Tostitos, Ruffles and Miss Vickie's.
To fill the hole, Loblaw has relied more on its store brand of chips, as well PepsiCo's competitors, including Old Dutch Foods Inc. and Neal Brothers Foods Inc., based just outside of Toronto in Richmond Hill. At the same time, Loblaw's competitors appear to have started promoting PepsiCo snack brands in attempt to steal market share, said Michael Graydon, head of Food, Health and Consumer Products of Canada (FHCP), an industry lobby group.
But Loblaw has been able to hold out, in part because it's a dispute about chips, said Gillian Kerr, a former marketing executive at Empire Co. Ltd.'s Sobeys grocery chain and Metro Inc. Customers wouldn't be as patient if the spat was jeopardizing the supply of something more important. Loblaw "wouldn't have done this with milk," she said.