Game On: Vancouver crowned as 2026 FIFA World Cup host city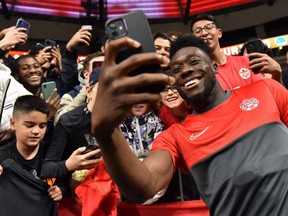 Canada's midfielder Alphonso Davies (R) signs autographs and takes photos with fans following the Concacaf Nations League football match between Canada and Curacao at BC Place last week. Local fans might just get to see him again in 2026 — this time, playing a World Cup game in the same stadium. Photo by Don MacKinnon /Getty Images
In the end, it was more coronation than trepidation as Vancouver was selected as a host city for the 2026 FIFA World Cup.
While 17 cities across the U.S., and three in Mexico sweated it out to see if they would be one of the 10-12 selected to host games in Thursday's announcement by soccer's global governing body, Canada was just ready to get the party started.
Mark said that while this moment was priceless, the cost of hosting the games was extensive — between $240M and $260M CAD, but that it would reap a a massive about of revenue for the province, with an estimated 269,000 visitors expected.
"We know that tax dollars are precious," she said. "We know that there's affordability challenges, and when you make investments like this, we have also done the math that there's going to be a return on that investment. And we're looking at a billion dollars coming to BC.
"The tourism industry here, they've been hit hard by this pandemic and this opportunity is going to help stimulate that growth for our economy."