Hotel Intel: Culture vultures flock to Florida's Lake Worth Beach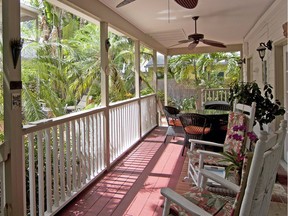 Sabal Palm House is known for its relaxing veranda and courtyard. Photo by Sabal Palm House
Lake Worth Beach represents a different side of Florida. Sure, LWB habitués enjoy the Sunshine State's classic attractions — sun, sand and water — but this darling community of Palm Beach County (a.k.a. the Palm Beaches) is also an intriguing enclave of grassroots culture. And like most of the state, it has evolved into a year-round destination.
LWB is a vintage town popping with art, crafts, theatre, music, history and funky, small-scale businesses — cafés, galleries and boutiques, many housed in some of the oldest properties in south Florida.
The B&B faces the Intracoastal Waterway and is across the street from the Lake Worth Beach Golf Club, so it's a quiet getaway. The guest rooms and parlour are deeply comfortable, filled with a museum's worth of antique furniture. The veranda and courtyard are restful, leafy retreats blooming with tropical flora and classical statuary.
Decorated with prints by Renoir and Chagall, Sabal Palm House is an ode to art. A two-storey cottage, it has six guest rooms and two suites, all enhanced with covered balconies, and two with private whirlpool tubs.
The owners of this charming B&B are Angela Brown, who brings hospitality experience from a Waldorf-Astoria resort in Key West, and her husband Greg Brown, who is an executive with Habitat for Humanity, a non-profit focused on affordable housing.