Hotel Intel: Guests can cocoon in rebranded Delta at Mont-Ste-Anne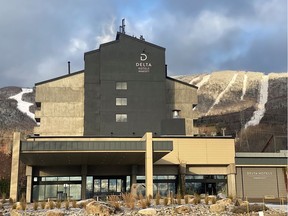 A rebuilt and rebranded Delta is at the base of Mont-Ste-Anne, Quebec's second-largest downhill ski area. Photo by Delta Hotels by Marriott
The Quebec City region is celebrating winter big time, in many ways.
This week's hotel is one of more than 20 lodging establishments around Quebec City offering a second night at no charge until March 4.
The former Château Mont-Ste-Anne has been rebranded and rebuilt with a new look — it is now Delta Hotels by Marriott, Mont-Ste-Anne, Resort & Convention Centre. That's a long handle that describes the only full-service establishment at the heart of this superlative sports region, loved for outdoor pursuits from downhill to dog-sledding.
The Delta is three hours northeast of Montreal and 45 minutes past Quebec City, where Carnaval de Québec will pulse with themed floats, Bonhomme's Palace, ice sculptures and activities from Feb. 4 to 13. You can pair an action-packed ski-snowboard visit to Mont-Ste-Anne with the delightful annual winter fest in romantic Quebec City — and for each two-night reservation, you pay for only one night.
News: After a $25-million investment, the Delta has emerged with a stylish Nordic-modern design, upgraded food and an elaborate game room for kids and teens, as well as red-hot après-ski around a huge fireplace and the redone Bistro Nordik.
There is more to come in June. The Aqua Nordik centre will open, with an indoor lap pool and an outdoor complex of swimming pools and hot tubs. A tunnel will connect the Aqua Nordik centre, the hotel and the conference building, so the entire resort will be weatherproof.
"Guests really appreciate that they can cocoon," said Sébastien Roy, the Delta's general manager. "The kitchens are top-drawer, and many families 'dine in' even when restaurants are open.
"Plus, after an exhilarating day outdoors, they have everything in one location, so all they have to do is relax."