Hotel Intel: Inn sets up shop in 1870s general store near Mont-Ste-Anne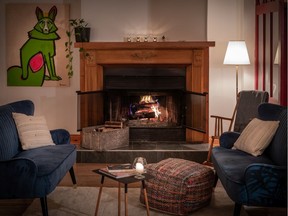 Located near Mont-Ste-Anne, Auberge et Campagne has a fireplace lounge, nine rooms and an intimate bar. Photo by Auberge & Campagne
Located about 45 minutes northeast of Quebec City, St-Ferréol-les-Neiges was settled around 1730 as a farming community. It's been relatively quiet since.
A dynamic couple, Patrice Drouin and Lisa Linton, are picking up St-Fe's pace with the new country inn Auberge & Campagne and a handful of activities that have captivated both tourists and locals.
Drouin and Linton also operate Chez Pat Ski Vélo Apéro, an intimate après-sports bar that specializes in Quebec bites and beverages; Cheval & Campagne, a stable for trail riding, breeding and rescue horses; and Ferme des Neiges, where children can help with the potato harvest, learn horsemanship and visit pigs, goats and chickens, all raised organically.
Drouin and Linton are inveterate multi-taskers. Drouin was the founder of Gestev, a company that orchestrates major events (and is now owned by Québecor). In summer, Linton is a trail-riding guide, and she recently published her third book, A Bite of Life, featuring stories about friends and food. Her first, The Cabin, would fit right in with Netflix's Nordic noir mystery series.