Hotel Intel: Le Pleasant is a fine stop at the centre of Sutton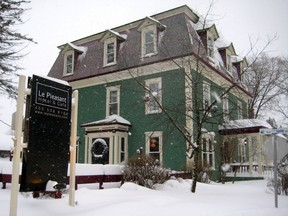 Le Pleasant Hôtel & Café has contemporary interiors in a 120-year-old Victorian house, steps from Sutton's main street. Photo by Le Pleasant Hôtel & Café
Nathalie Legault and Samuel Lemay recently became innkeepers in Sutton, and they have a lot to live up to.
Their new acquisition, Le Pleasant Hôtel & Café, earned a 2021 Most Wanted Award from hotels.com, and was listed among TripAdvisor's top 25 hotels in Canada every year from 2016 to 2019.
Legault, a retired psychologist, knew since she was a child that someday she wanted to run a small manor house. "It's a joy greeting people who are on vacation and are so happy to be in this beautiful village."
She is a woman of taste who wants her guests to have the best of everything.
Le Pleasant features B&B and more Bs: bed, breakfast, brunch and beverages at its bar, plus packages with Balnea Spa and Réserve Thermale — a deluxe, lakefront Nordic spa in nearby Bromont — and with Mont Sutton, for ski-and-stay getaways.