How much did mayor and top earners at Vancouver City Hall make in 2021?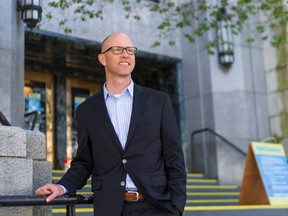 Vancouver city manager Paul Mochrie is the highest-paid city employee. Photo by Jason Payne/PNG
Vancouver Mayor Kennedy Stewart earned $178,000 in 2021, according to financial statements released Wednesday — far from the highest-paid staff at city hall.
There are nearly 75 people working at city hall who make more than the mayor, with city manager Paul Mochrie topping the list at $332,600. That's a big jump from his previous salary of $277,500 but still less than the previous city manager's salary of $354,700.
"The city's financial position remains healthy as reflected in its credit ratings," it read, noting that several credit-rating agencies gave the city a AAA mark — the highest available — with "a stable outlook."
City councillors' salaries ranged from $89,800 for Jean Swanson to $103,200 for Sarah Kirby-Yung, who also has deputy mayor duties.
Discretionary expenses, which are costs incurred by the mayor and councillors while carrying out constituency activities, totalled $877,200 last year, although almost 90 per cent of that was from the Office of the Mayor, which uses those funds to pay staff and consultants, among other things.