'I got hit': Canadian volunteer fighter injured in Russian missile strike at Ukraine base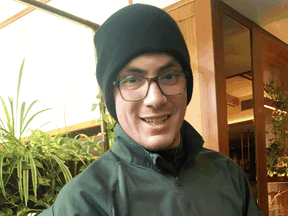 Former Canadian infantry soldier Hunter Francis in the lobby of the Sheraton Hotel in Warsaw, Poland, on March 7, 2022. Francis was one of hundreds of Canadians who have gone to fight for Ukraine against the Russian invasion force. Photo by Anna-Maria Jakubek/AFP via Getty Images
The hundreds of Canadians streaming into Ukraine to help battle the Russian invasion have suffered their first casualty of the conflict.
Hunter Jaxon Francis, a former infantry soldier from New Brunswick who volunteered to fight for the beleaguered country, was injured in a missile attack on a training base near the Polish border. About three dozen people were killed in the barrage early Sunday.
He seemed to have been very close to one of the explosions, as his passport and other identification documents were destroyed, said the Hamilton, Ont., businessman and philanthropist.
Ecklund said the Canadian initially did not even want to obtain medical help but was eventually convinced to get checked out. He was planning to return to Canada soon after that.
Global Affairs Canada spokesman Jason Kung said the department is aware of a Canadian injured in the missile strike.