Ian Mulgrew: $10-million fine a bitter end for sweet thief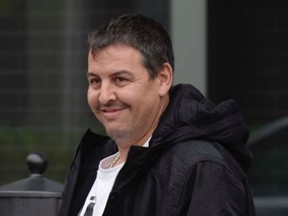 Richard Vallières at court in 2016. Postmedia Wire
Used to confronting thorny legal thickets, the Supreme Court of Canada dealt with more of a sticky wicket Thursday, unanimously endorsing the Criminal Code's tough punishment for financial crooks.
The top bench reinstated a nearly $10-million fine imposed by the Quebec Superior Court that received international attention and laughs because it involved the theft of $18 million worth of maple syrup.
The curdled relationships were exposed when the federation of Quebec maple syrup producers reported the staggering theft in 2011-2012 that triggered a massive 250-officer investigation by the Sûreté du Québec and ended with the arrest of 16 people.
The very blood that flows through Quebecers' veins — OK, it's probably doing more to clog his, her and their arteries — let's just say the national symbol was turned into a joke by late-night comedy, morning weather shows, and columnists.
The popular Netflix documentary series, Dirty Money, even devoted an episode to the bitter feud in the hardwood forest: The Maple Syrup Heist.