James Franco, Elon Musk, Paul Bettany among witnesses in Johnny Depp and Amber Heard trial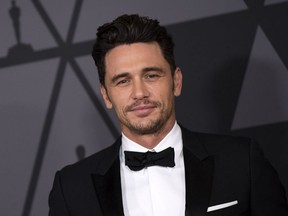 In this file photo taken on November 11, 2017 actor James Franco attends the 2017 Governors Awards, in Hollywood, California. Photo by VALERIE MACON /AFP via Getty Images
James Franco, Paul Bettany and Elon Musk will be called to testify in Johnny Depp and Amber Heard's defamation dispute.
The 'Pirates of the Caribbean' actor sued his ex-wife for $50 million after she wrote an op-ed for the Washington Post in which she described herself as a victim of domestic violence, though she didn't name her former spouse, and in return, the 'Danish Girl' actress countersued for $100 million.
Johnny has asked Paul to testify on his behalf, with texts between the two actors previously read out during the 'Black Mass' actor's failed libel case against The Sun newspaper, who had branded him a "wife beater".
And that's not all, as emails between the 'Fantastic Beasts and Where To Find Them' actor and both J.K. Rowling and Jack White will be addressed, as well as correspondence between Amber and her 'Aquaman' co-star Jason Momoa, directors James Wan and Zack Snyer, and CAA boss Bryan Lourd.
'WandaVision' star Paul previously admitted it was "embarrassing" having his and Johnny's 2013 correspondence discussed in court.