Joe Rogan slams 'woke' Silicon Valley tech workers, calling them 'mentally ill'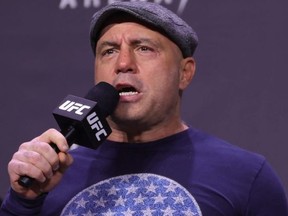 Joe Rogan introduces fighters during the UFC 269 ceremonial weigh-in at MGM Grand Garden Arena in Las Vegas, Dec. 10, 2021. Photo by Carmen Mandato /Getty Images / Files
Controversial podcaster Joe Rogan has taken aim at "woke" Silicon Valley tech workers, calling them "lunatics" and "mentally ill."
The comments were made during Rogan's podcast interview Wednesday with Antonio Garcia Martinez, an ex-engineer at Apple and Facebook who was fired from the iPhone maker after staff complained of "misogynistic" writings in his book.
He said when these workers are "confronted" for not completing their tasks, "they talk about their activism."
Rogan then told Martinez his friend was force to reprimand her staff, telling them, "You are here for X amount of hours per day. This is your f—king job. You're not an activist."
In response, Martinez said he thinks tech companies are "somewhat to blame" by encouraging staff with "their bring-your-real-self-to-work thing," which he said is designed to get the most productivity out of workers.