Kamloops youth homelessness advocate died of an accidental drug overdose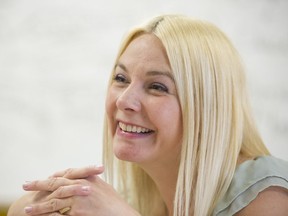 Katherine McParland, Executive director for A Way Home Kamloops, during an interview at the group's office, Kamloops June 24 2019. Photo by Gerry Kahrmann /PNG
Katherine McParland, the former executive director of A Way Home Kamloops, passed away from an accidental illicit drug overdose, the B.C. Coroners Service has revealed.
McParland was found deceased on Dec. 5, 2020, at a private residence in the 100-block of Lorne Street, to where police were called just after 9 a.m. for a report of "an unexpected death of a woman in her 30s."
Alcohol & Drug Information and Referral Service: Call 1-800-663-1441 (toll-free in B.C.) to find resources and support. They can refer you to services across the province.
An investigation revealed McParland had a history of illicit substance use, the report stated. She had been abstinent for a long period of time, but recently relapsed.
About a week prior to her death, on November 28, 2020, McParland received treatment in hospital for complications associated with substance use, the report stated.