Liberals and NDP close to deal to keep Justin Trudeau in power until 2025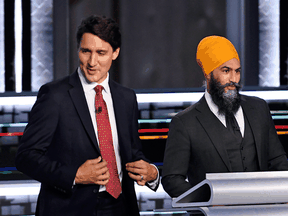 Liberal Leader Justin Trudeau and NDP Leader Jagmeet Singh before the start of the federal election English-language Leaders debate in Gatineau, Que., on September 9, 2021. Photo by Justin Tang/The Canadian Press/File
The Liberals and the NDP are close to announcing a deal that would keep the Liberals in power until 2025.
The NDP has been the Liberals most reliable partner in both the previous minority Parliament and the current one, but the proposed deal, which was being shared late Monday with caucus members from both parties, would be a formal arrangement.
In the last NDP platform, Jagmeet Singh's party promised both a national "pharmacare for all" plan and a universal dental care program that would cover the costs Canadians currently without private dental insurance.
The two parties were broadly aligned on climate change, with the NDP planning to keep the Liberals carbon tax in place.
The deal between the party was described by one source as a "confidence and supply deal", and not a coalition government deal which would usually involve naming an NDP member to cabinet.