Lilley: Hulk star and other Hollywood celebs have it wrong on Canadian oil and gas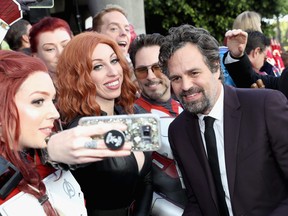 Mark Ruffalo attends the Los Angeles World Premiere of Marvel Studios' Avengers: Endgame at the Los Angeles Convention Center on April 23, 2019 in Los Angeles. Photo by RICH POLK /GETTY IMAGES
Hollywood star Mark Ruffalo might get angry like the Hulk at hearing this, but his latest "environmental campaign" does nothing but help dictators like Vladimir Putin. Ruffalo is the lead voice of a gaggle of Hollywood stars once again trying to shut down Canada's oil and gas industry.
He's joined by such luminaries as Jane Fonda, Scarlett Johansson, Ben Stiller and the band The Lumineers along with a long list of others. It's too bad their understanding of global issues isn't as impressive as their talent on the stage and screen.
This doesn't matter to Ruffalo and the other Hollywood celebrities. Their interest isn't in finding a solution, it's to punish Canada's natural resources and use First Nations groups as a front while doing so.
"For over a decade, the Wet'suwet'en Hereditary Chiefs, members of the nation and their supporters have protested this pipeline — at significant risk to their own lives," Ruffalo and the others state boldly in their open letter.
What he doesn't state is that 16 different First Nations are partners in the Coastal GasLink pipeline. They have an ownership stake in the project. More than 30 First Nations and Metis groups have consulted on the project over the past several years and their input has helped shape the route of the pipeline.