Man accused of wife's murder posted how proud he was after her 'last round of chemo'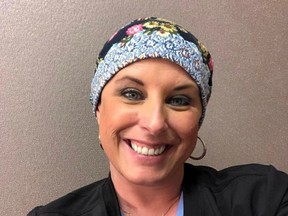 On March 26, Elizabeth "Nikki" Wilhoite was found within a few miles of her home "partially submerged in approximately three feet of water," according to police. Photo by Andrew Wilhoite/Facebook
A man in Indiana is facing a murder charge after his wife — who had recently completed chemotherapy treatment — was found dead in a creek on Saturday.
Andrew N. Wilhoite, 39, was arrested after a domestic dispute left dead Elizabeth "Nikki" Wilhoite, 41, according to Indiana State Police.
About a week before her death, Andrew Wilhoite posted a photo of her on Facebook and wrote in the caption: "This lady just finished her last round of chemo today… very proud of you."
The post was written the same day Nikki Wilhoite petitioned for legal separation, The Daily Beast reported on Monday.
The fight leading to Nikki Wilhoite's death stemmed from her learning that Andrew Wilhoite was having an affair, according to an affidavit obtained by the outlet.