Missing Montana hiker found dead after apparent grizzly bear attack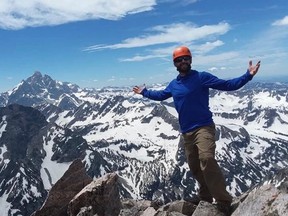 Photo of man with arms outstretched on mountaintop GoFundMe
A missing Montana hiker was found dead near Yellowstone National Park after an encounter with a grizzly bear.
Craig Clouatre, 40, of Livingston, Mont., was reported missing last Wednesday after he and a friend went hiking, and the two went their separate ways, authorities said.
In a post on Sunday, Bichler's wife told Bichler that "she and the family understand that Craig loved to be in wild places and was well aware of the risks involved with that."
Launched to assist the family financially, A GoFundMe describes how they "lost almost everything" in a house fire two years ago.
"Anyone who has met Craig, had a friend in him," reads the page. "He was a man full of joy and kindness. And more than anything, he loved his family. He leaves behind a loving wife and four beautiful children."