Niagara Falls' newest museum is an electrifying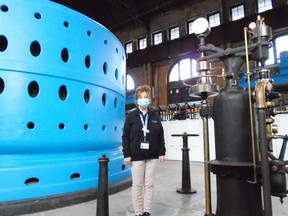 Niagara Parks' Susanna Saddler is among the guides charged with taking visitors on tours of the restored 116-year-old power station on the Niagara River. Photo by Andre Ramshaw
No matter how many times one visits Niagara Falls, Canada's grand duchy of tourist destinations, the brute force behind millions of gallons of water flowing unceasingly over that sheer, mist-shrouded cliff never fails to captivate.
It's entirely fitting, then, that the Ontario city's newest attraction is a paean to power.
It's the only fully intact, former hydroelectric plant of its type left in the world, according to Niagara Parks.
And it's not over-amping, to use a cathedral analogy.
Architects in the early 20th century designed industrial buildings not as the utilitarian boxes of today, but rather as art deco, moderne and gothic monuments to progress. Whether paying your hydro bill or tootling by on a Sunday drive, they were as much about vanity as voltage. Along the Niagara River in particular, the CNP generating station had to be sympathetic to the natural wonders that would, in a few decades, see hospitality trump hydro as the city's main economic driver.