Point Roberts: 'Economic recovery is beyond our reach and no relief is in sight'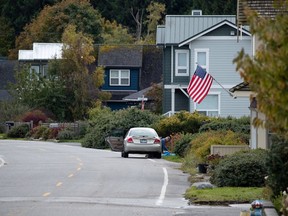 A man working in the yard outside a house in Point Roberts, Wash., is seen from Delta. Point Roberts sits on a peninsula and is only accessible by land by travelling through Canada. Photo: Darryl Dyck/CP Photo by DARRYL DYCK /THE CANADIAN PRESS
When Brian Calder looks out over the tiny spit of land that is Point Roberts, he sees a dire situation.
The American pene-exclave, despite border-crossing measures being relaxed somewhat over COVID-19 health measures imposed by both countries, is still being hammered by the reduction in Canadian shoppers, holidaymakers and cottage-goers.
"They could drive that 24 miles from border (Peace Arch) to border (Point Roberts) as long as they didn't stop in Canada. But with ArriveCan, these guys are like, 'Wait a minute, we're vaxxed, we're passported, half of us are on Nexus.'"
They can't be bothered, in other words.
"They just got to the level where they said, 'That's enough, no more, we're not coming.'"