Pregnant woman shown in maternity hospital bombing in Ukraine dies with her baby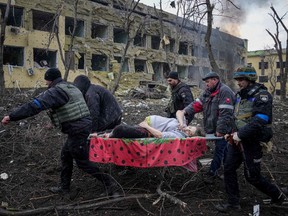 Ukrainian emergency employees and volunteers carry an injured pregnant woman from the damaged by shelling maternity hospital in Mariupol, Ukraine, Wednesday, March 9, 2022. A Russian attack has severely damaged a maternity hospital in the besieged port city of Mariupol, Ukrainian officials say. Photo by AP Photo/Evgeniy Maloletka
A pregnant woman, her face pale, lies on a stretcher. Her left hip is covered in blood as she is rushed out of a hospital in the Ukrainian city of Mariupol, which had just been hit by an airstrike.
The gripping picture, captured by photographer Evgeniy Maloletka for the Associated Press, encapsulated the toll on civilians of Russia's invasion of Ukraine. It was shared, and condemned, around the world — but little was known about the woman herself.
The woman, whose name has not been revealed publicly, is part of a civilian death toll from the war in Ukraine that the United Nations puts at 596, though it "believes that the actual figures are considerably higher."
The woman's story illustrates the perilous situation facing those who are pregnant in Ukraine, where at least 31 attacks against health-care facilities or equipment have been documented by the World Health Organization since the start of Russia's assault two and a half weeks ago.
According to the United Nations, "80,000 Ukrainian women are expected to give birth in the next three months while oxygen and medical supplies, including for the management of pregnancy complications, are running dangerously low."