Putin daughter's marriage to Dutch husband is now Kaputin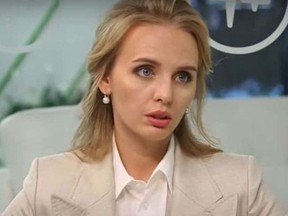 WHOS YOUR VLADDY? Putins eldest daughter Dr. Maria Vorontsova has her own woes. Photo by SCREENGRAB /YOUTUBE
Not only are Russian strongman Vladimir Putin's dreams of empire being shattered in Ukraine but he also has woes on the domestic front.
According to reports, Mad Vlad's eldest daughter's marriage to her Dutch husband has imploded along with her dreams of opening a medical centre catering to mega-wealthy foreigners.
Making matters worse for the glamourous Russian, her Dutch businessman husband Jorrit Faassen has reportedly flown the coop. It's believe the marriage meltdown occurred before the invasion.
Faassen was an executive at the country's Gazprombank-Invest and Stroytransgaz.
Vorontsova's sister Katerina Tikhonova, 35, is also divorced and a product of the president's first marriage.