Richard Shimooka: Putin's position within Russia remains steadfast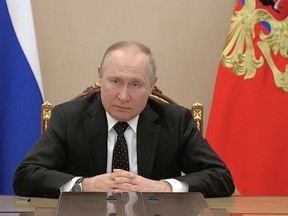 Sanctions may affect Russia's political stability in the months and years ahead, but they are unlikely to do so in the short-term. Photo by Russian Pool/Reuters TV
Since the start of Russia's invasion of Ukraine, some commentators have suggested that the pressure on President Vladimir Putin's regime may create grounds for a coup or an uprising against his autocracy. To be clear, regime change is not the stated aim of Western governments undertaking punitive economic and diplomatic action against Russia, nor should anyone hold out serious hope that such an event will occur.
Sanctions may affect Russia's political stability in the months and years ahead, but they are unlikely to do so in the short-term. Putin and his elites have literally and figuratively corrupted the state for their own ends. A core part of their control is the security services, which are an insidious hidden hand suppressing and eliminating potential threats inside and outside the regime.
First, much of the population is invested in the system's survival for their prosperity. Real upward mobility, however, is tied to interacting with the state. If citizens want to establish a successful business or journalism career, they will eventually run into some aspect of it — the bureaucracy, security services or judiciary. These groups are effectively the fiefdom of Putin's entourage. People must navigate the widespread corruption and usurpation of civil society to get ahead, and in that process effectively become a part of the system, with a vested interest in its perpetuation.
Second, Putin has been preparing Russian society for a moment like this. One of the more notable aspects of his nationalistic jingoism has been the constant mythologizing of the Second World War (known as the "Great Patriotic War" in Russia). The fight against Nazi Germany and the sacrifice needed to achieve ultimate victory has been emphasized. This explains his messaging justifying the invasion of Ukraine as a fight against a so-called "neo-Nazi" regime in Kyiv. It also prepares the public for the upcoming pain that will be felt.