Russia brings war to NATO's doorstep, U.S. threatens a 'full force' response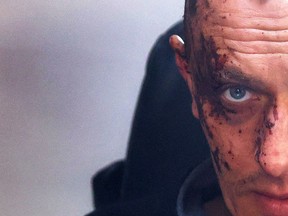 An injured serviceman looks out of an ambulance after Russia's attack on the military base in Yavoriv, Ukraine, March 13, 2022. Photo by REUTERS/Kai Pfaffenbach
YAVORIV — The U.S. warned Russia it would face NATO's "full force" if attacks on Ukraine strayed beyond the border after Vladimir Putin brought his war to within 25 kilometres of Poland with a missile strike on foreign fighters.
Russia boasted it had killed "up to 180" foreign fighters and destroyed a cache of weapons donated by the West after using long-range missiles to target a military training centre hosting volunteer fighters from abroad near the city of Lviv.
He described the targeting of the base in Yavoriv, called the International Centre for Peacekeeping and Security, previously used by NATO troops to train Ukrainian soldiers, as a "significant" development. No NATO troops were at the site at the time of the attack.
While the Kremlin said the air assault killed 180 mercenaries and destroyed foreign military aid, local officials insisted 35 people died and 134 others were injured.
A U.K. government minister said while attacks on support convoys with military aid were "part of war", any assault outside of Ukraine's borders would be a "big moment" in the conflict.