Russian troops rail about Putin's 's***show' war, run over colonel with tank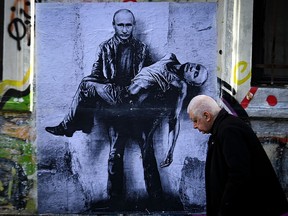 A resident walks past mural depicting Russian President Vladimir Putin holding his own body in Sofia, on March 15, 2022. Photo by NIKOLAY DOYCHINOV /AFP via Getty Images
Morale among Russian troops sent in to fight Ukraine has been suspect from the first shot fired.
Now, in an intercepted phone call, two soldiers were caught complaining bitterly about President Vladimir Putin's "bulls***" war, calling the invasion a "s***show" and describing how one overzealous colonel was intentionally run down by a tank.
Soldiers — many of them young conscripts — were told by their commander Gen.-Lt. Yakov Rezantsev that the fighting would be over quickly.
"Do you know what he told us? 'It's no secret to anyone that there are only a few hours until this special operation is over.' And now those hours are still going," the soldier moaned.
In addition, the invaders are being given Kevlar vests — without the hard-plated Kevlar.