The Emerald City still sparkles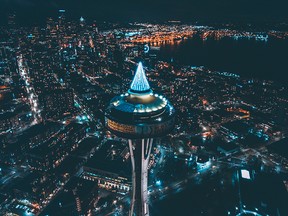 The Christmas Tree atop the Space Needle is just one sure sign that Seattle is once again open for the holidays — particularly for Canadians. Photo by Rudy Willingham
One of the holiday traditions I've enjoyed for the past decade or so is an annual assignment to Seattle to report on the holiday festivities.
As with many traditions, it was put on hold in 2020, but I've just returned from the Emerald City after a two-night stay and I'm happy to say the downtown core still sparkles with holiday magic. The iconic Macy's star is back to its twinkling self, illuminating the corner of Pine and 4 th ; carollers and Christmas lights intermingle in Westlake Park; and bag-toting shoppers crowd the sidewalks in the downtown shopping districts. And if you're in town on an NHL game night, expect to see plenty of Seattle Kraken sweaters and toques, and if it's a Canadian team they are facing, a good smattering of away sweaters. That was certainly the case on the Friday night we were in town, with lots of #97 Edmonton Oiler sweaters heading north to Climate Pledge Arena, the pledge alluding to the intent to be the world's first net zero carbon certified arena.
The Canadian content in the city was the highest it's been in almost two years, with the recent lifting of Covid test requirements for returning Canadians if their time in the States is less than 72 hours. In terms of health orders, Seattle is much like Vancouver, with masks required in all indoor settings and double-dose vaccine requirements for sporting events and restaurants. We showed our B.C. QR codes along with identification and never had a problem getting into any establishments. And mask-wearing on downtown streets, while not required, seemed much more prevalent than on a weekend night in downtown Vancouver.
Shopping is unquestionably the most popular activity for British Columbians crossing the line during the holidays, from Bellingham to a factory outlet to downtown Seattle. Dining out must be a close second as we spent some time walking around Friday night looking for a place to eat. Lineups were the norm, and not due to either restricted spaces inside or a lack of staff; just to demand. We finally settled on the Yard House, a big sports bar that was filled with Kraken, Oilers and 49ers fans, creating a great atmosphere (San Francisco played the Seattle Seahawks on Sunday afternoon). So, if you have a favourite restaurant you've been looking forward to going to since the border closure, make a reservation.