Tourism businesses say it will take years to recover from COVID-19 restrictions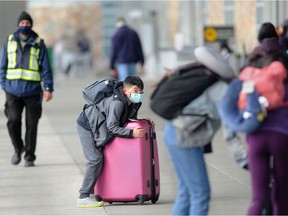 International travellers at Vancouver International Airport (YVR) as the federal government are set to announce that vaccinated travellers will no longer require a negative COVID-19 test to come to Canada. Photo by NICK PROCAYLO /PNG
B.C. hotel operators reacted with jubilation to Ottawa's plan to drop most COVID-19 testing at Canada's border on April 1, but say a lot of work needs to be done to repair the country's "damaged brand" and get all-important international tourists back.
"There has been such a mixed message and confusion over whether or not our border was open, especially since a lot of competitors in other countries have been open for some time," said Ingrid Jarrett, CEO of the B.C. Hotel Association.
"We really need them to say: 'We're open for business, we're excited you're coming, we really want you to come,'" she said.
Jarrett said national and provincial industry watchers predict tourism won't return to pre-COVID levels until 2025 or 2026, "so there's a long way to go."
A strong marketing campaign abroad is essential. "This is Canada's brand. There have been things happening that have been extremely damaging to Canada's brand," she said, including the weeks-long occupation of central Ottawa.