Vancouver protest: If convoy returns, we will too, say counter-protesters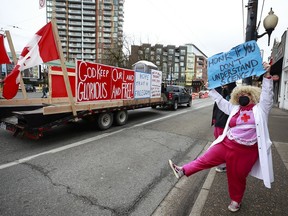 Scenes from duelling protests in Vancouver Saturday. One was in support of the truck convoy in Ottawa protesting vaccine mandates while the other was a counter demonstration to try and stop the convoy from driving past and disturbing the peace at hospitals. Photo by Jeff Vinnick /PNG
Vancouver's health-care workers who stood in protest Saturday against a convoy of big rigs and vehicles opposing COVID-19 mandates were warned during the second weekend of demonstrations to save their signs for next week.
"Drivers in the convoy told us 'we'll be here every week until things are back to normal'," said Jen, a nurse who held a "triple vaxxed and grateful" sign at the corner of Kingsway and East Broadway. She asked Postmedia that her last name not be used, fearing retaliation.
For hours, hundreds of big rigs, pickup trucks and vehicles — many adorned with Canadian flags and signs that criticized Prime Minister Justin Trudeau — blocked road arteries and intersections from east Vancouver to downtown Vancouver.
Vancouver police reported five people were arrested during the protests for vandalism and mischief, which included kicking vehicles, eggs being thrown and nails strewn along roadways. A 29-year-old man was also caught carrying a knife in a sheath.
Those belonging to the anti-COVID mandate convoy yelled "we love you" to counter-protesters along the sidewalk, while others took a different approach, screaming obscene language and gestures from their car windows.
While Jen had not originally planned to protest the noisy convoy on her day off work, she said hearing their horns outside of her East Van apartment the past two weekends prompted her to act.
"At first while walking up to the street corner in my scrubs, I was really scared," she said. "These people are in big rigs and trucks and I was alone on the street."
Vancouver's health authorities had warned its workers on Friday to take defensive measures: "Refrain from wearing scrubs and/or your ID badge outside of the hospital during the demonstration," read a Vancouver Coastal Health internal memo.