Vancouver trend: Glass boxes atop heritage buildings change face of downtown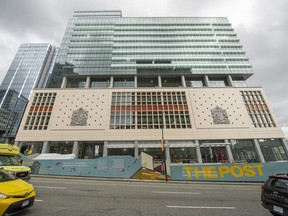 The former Canada Post building at 349 W Georgia in Vancouver is being redeveloped as a mixed-use building. Photo by Arlen Redekop /PNG
If you haven't been to downtown Vancouver for awhile, you might be in for a bit of a shock.
Several new highrise towers have gone up or are being constructed, dramatically changing the downtown skyline.
Three blocks up Georgia at Granville, the Hudson's Bay recently announced plans to add a 12-storey glass box on top of its existing six-storey store.
It hasn't been submitted to the city yet, but the proposal would more than double the building size to 1.4 million sq. ft.
That breaks down to roughly one million sq. ft. of offices in the glass tower, and 400,000 sq. ft. for the store, a reinforced concrete structure that would need costly seismic upgrading and heritage restoration.