Vaughn Palmer: Rebates a case of too little, too late from John Horgan's government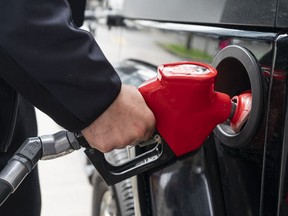 After weeks of fending off calls for relief from soaring gasoline prices, the New Democrats finally responded Friday by raiding ICBC coffers for a rebate that was as meagre as it was belated, writes Vaughn Palmer. Photo by RICHARD LAM /PNG
VICTORIA — After weeks of fending off calls for relief from soaring gasoline prices, the New Democrats finally responded Friday by raiding ICBC coffers for a rebate that was as meagre as it was belated.
The payouts of $110 for individuals and $165 for commercial customers were somewhat underwhelming, as even Premier John Horgan had to admit.
Hence Friday's announcement of the rebate cheques from ICBC, after weeks of ducking and covering by the premier and his colleagues.
Why had it taken so long?
"We acted prudently," explained Horgan.