Violent night in Metro Vancouver as police investigate homicide, shooting in Langley, Surrey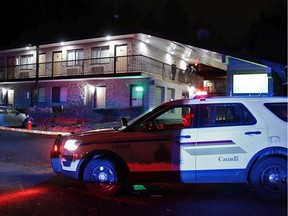 The Integrated Homicide Investigation Team is investigating the death of a man at the Highway Hotel near the 20400 block of 88 avenue in Langley around 8:50 p.m. Friday. Photo by Shane Mackichan/PNG /PNG
It was a busy Friday night for crime detectives in Metro Vancouver, after a man died in an apparent homicide in Langley and another was injured in a shooting in Surrey.
The overnight police incidents followed another homicide in Coquitlam Friday afternoon.
The Surrey Gang Enforcement Team attended the area and found evidence of a shooting. A short time later, a man arrived at a nearby hospital suffering from non-life-threatening injuries. 
Surrey RCMP's General Investigations Unit has now taken over the case. Officers are in the area collecting evidence, including CCTV footage.
It is believed to be a targeted shooting is related to ongoing gang conflict in the Lower Mainland.