What we know about the 22-year-old twin brothers behind the fatal B.C. armed robbery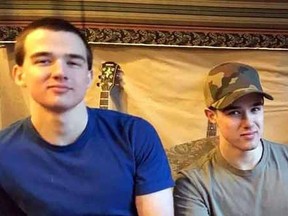 Mathew and Isaac Auchterlonie died in a shootout with police during a bank robbery in Saanich, B.C., on June 28, 2022. The two may have been copying an infamous California bank robbery in 1997. Photo by B.C. RCMP handout
Precisely one week after a quiet Victoria street exploded into a shootout with heavily armed bank robbers, Saanich Police Chief Constable Dean Duthie told a Tuesday press conference it was sheer chance that the city's tactical squad just happened to be nearby.
"I don't want to even think about what could have happened if they had not been there," he said.
They had no criminal records. But their social media abounded with photos of firearms and armed conflict. And witnesses reported that the brothers acted as if they relished a confrontation with law enforcement.
Shelli Fryer, who was in the bank at the time of the robbery, told CFAX 1070 that after the robbers had been escorted to the bank's vault, they inexplicably waited around until police arrived.
"What were they waiting for?… They could have just taken the money and left right away," she said.