World's largest cruise ship, five times the Titanic, sets sail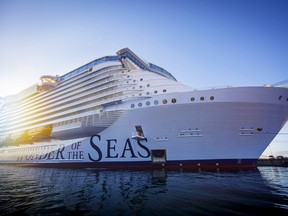 Side shot of Wonder of the Seas ship. Photo by Sigrun Sauerzapfe aka SIGGI /Royal Caribbean
If you've ever been on a cruise ship and felt super-small, just wait until you get a load of the Wonder of the Seas.
At a cost of $1.68 billion, the aptly named ship from cruise line Royal Caribbean is a record-setting 362 metres long and a reported 236,857 tons, making it five times that of the Titanic.
There are 18 decks, with 16 for passengers, and in a Royal Caribbean first, there's something called the Suite Neighborhood — dedicated exclusively to suite guests.
Speaking of, the 10-person Ultimate Family Suite has a two-storey slide from the bedroom to the living room.
Add in an interactive outdoor play area, the tallest slide at sea, a surfing simulator, rock-climbing walls, a full-size carousel, a 10-deck-high zip line, and they're going to have a hard time prying passengers off the ship at different ports.