Open Stage #2 program offers a great sampler of local dance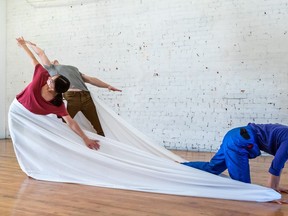 Rachel Maddock, Damian Kai Norman and Hana Rutka will be performing the Maddock choreographed piece Proximity for the Open Stage 2 program on Jan. 9, 2022 at the Scotiabank Dance Centre. Proximity is one of six short dance pieces set to be presented. Photo: Andi McLeish Photo by Andi McLeish /PNG
Open Stage #2
When: April 3, 7 p.m.
Saugstad began to form Paper Mountains after she reviewed videos she made of herself dancing during the thick of the lockdown. It was there on those digital recordings that a story about spatial relationships and our place next to each other emerged.
"I needed a way to process the world and process life," said Saugstad about continuing to dance on her own. "Over time I just decided to film all these little improvs or choreographies that I was making. None were related to each other. It wasn't about making a solo or making a piece of work at that moment. It was just what I needed to do a that moment."
After a year or so Saugstad sat down and watched what she had recorded and there in front of her she said were memories in the form of movement.