Ottawa opposes plane crash victims' bid to seize former Iranian embassy property in Canada
The plaintiffs in a lawsuit over the destruction of Ukrainian International Airlines Flight PS752 are trying to collect on a $107-million judgment issued against Iran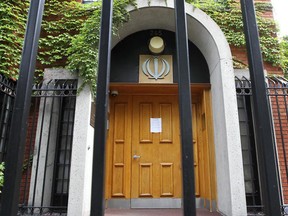 The shuttered Iranian Embassy is seen in Ottawa Sept. 10, 2012. Photo by ANDRE FORGET /QMI AGENCY
A lawyer for victims of the airliner shot down by the Iranian military accused the federal government Friday of "standing in Iran's shoes" by opposing a bid to seize Ottawa properties linked to Tehran's former embassy in Canada.
The plaintiffs in a lawsuit over the destruction of Ukrainian International Airlines Flight PS752 are trying to collect on a $107-million judgment issued against Iran last December by an Ontario court.
Diplomatic assets are usually exempt under the law from court seizure but the plaintiffs argue the three Ottawa properties  — plus two bank accounts — have not been used for diplomatic purposes for a decade and so are not covered by the provision.
Global Affairs Canada issued a certificate in December 2020 designating that the assets are indeed diplomatic in nature, removing them as a target for seizure.
Lawyer Mark Arnold, who is spearheading the lawsuit on behalf of several victims' families, went to court Friday to argue the certificate should essentially be ruled invalid.
Article content
Jacqueline Dais-Visca, a federal Attorney General's Ministry lawyer representing Global Affairs Canada, intervened, saying Arnold's motion should be dismissed or at least adjourned.
"The minister's certificate … is conclusive proof of diplomatic status of the asset mentioned," she said.
In a sometimes-acrimonious online hearing, Arnold rejected that position and questioned why Ottawa was defending Iranian assets from Canadians trying to enforce a court ruling.
"The government of Canada now stands in the shoes of Iran, which belies their position of sympathy for the victims of this horrible tragedy," said the lawyer.
In an interview afterward, Arnold went further.
"Canada is Iran's proxy agent," he charged. "They're advocating on behalf of Iran, a state sponsor of terrorism that intentionally shot down an airliner."
Article content
Dais-Visca told the hearing the government recognizes that the downing of PS752 is a "terrible tragedy" and is working with its partners in other countries to hold Iran accountable.
"Canada has credibility among its allies … partly because of its respect for the rule of law," she said.
But the issue of the diplomatic certificate was not directly argued Friday, as Ontario Superior Court Justice Marie-Andrée Vermette adjourned that question at the request of Dais-Visca. Until the original judgment and award of damages is served on Iran by diplomatic means — as required under the State Immunity Act — it would be premature to discuss how to enforce the judgment, she said.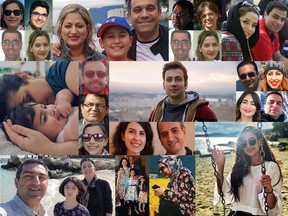 The lawsuit concerns the January 2020 shooting down of PS752 by two Islamic Revolutionary Guard Corps anti-aircraft missiles, killing all 176 aboard. The passengers included 55 Canadians, 30 permanent residents and numerous others heading here after the Christmas break, many returning to post-secondary studies.