Pope utters apology that First Nations, Inuit, Metis 'have been longing to hear for decades'
The Pontiff, speaking in Italian, asked for God's forgiveness for the deplorable conduct of members of the Catholic Church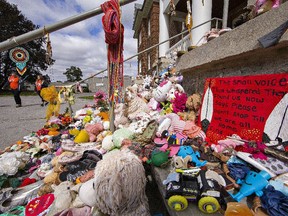 Mohawk Institute on Truth and Reconciliation Day adorned with footwear, children's toys and messages of love and hope ever since the discovery of the remains of 215 Indigenous children at a former residential school in Kamloops, B.C. Photo by Brian Thompson /Brian Thompson/The Expositor
ROME — Tears rolled down the cheeks of residential school survivors at the Vatican after Pope Francis delivered a long-awaited apology for the Roman Catholic Church's role in the harm those institutions caused to generations of Indigenous people.
The pontiff stood Friday before a room of nearly 200 Indigenous delegates in the Sala Clementina, one of the halls of the Apostolic Palace, and asked for God's forgiveness for the deplorable conduct of church members.
"I want to say to you with all my heart: I am very sorry," Francis said in Italian during a final meeting with First Nations, Inuit and Metis delegates.
"And I join my brothers, the Canadian bishops, in asking your pardon."
Francis said he felt shame and sorrow that Catholics, particularly those in charge of education, caused such significant harm.
Article content
He told the Indigenous peoples that he was happy to know that Catholics among them were devoted to St. Anne, the mother of Mary. The feast of St. Anne is July 26.
"This year, I would like to be with you on that day," he said. "I won't come in the winter!" he joked, drawing laughs.
Canadian Prime Minister Justin Trudeau, who also had asked the pope to apologize on Canadian soil, said the country's history "will forever be stained" by the legacy of the schools and that he was looking forward to the papal visit.
"Today's apology is a step forward in acknowledging the truth of our past. We cannot separate the legacy of the residential school system from the institutions that created, maintained, and operated it, including the Government of Canada and the Catholic Church," he said in a statement.
Article content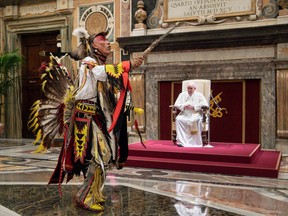 Chief Gerald Antoine, the Assembly of First Nations delegation lead, said getting the apology was like walking through the snow and seeing fresh moose tracks.
"That is the feeling that I have because there is a possibility," Antoine said while standing just beyond St. Peter's Square.
Natan Obed, president of Inuit Tapiriit Kanatami, said that in the moment he couldn't help but think about how people can change the world. He thought about how there can be a path toward justice.
"Behind the coverups, behind the indifference over a 100 years, behind the lies, behind the lack of justice, this Pope — Pope Francis — decided to go right through it and decided to speak words that First Nations, Inuit and Metis have been longing to hear for decades," Obed said.