Red Cross trying again to escort evacuation convoy out of Ukraine's Mariupol
Mariupol has been Moscow's main target in Ukraine's southeastern region of Donbas.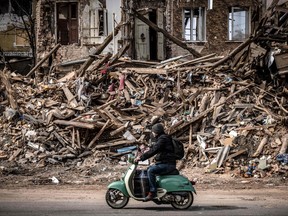 A man rides a scooter past the rubble of a destroyed building in the eastern Ukraine city of Kharkiv on april 2, 2022, as Ukraine said today Russian forces were making a "rapid retreat" from northern areas around the capital Kyiv and the city of Chernigiv. Photo by FADEL SENNA /AFP via Getty Images
ZAPORIZHZHIA — Ukraine said on Saturday its forces had seized back all areas around Kyiv, claiming complete control of the capital region for the first time since Russia launched the invasion.
As Russian troops regrouped for battles in east Ukraine, towns surrounding Kyiv bore scars of five weeks of fighting. Dead civilians laid scattered over streets, and President Volodymyr Zelenskyy accused Russian forces of leaving behind mines.
Ukraine's troops have retaken more than 30 towns and villages around Kyiv since Russia pulled back from the area this week, Ukrainian presidential adviser Okeksiy Arestovych said.
At one recaptured town reached by Reuters, residents tearfully recalled brushes with death.
"The first time, I went out of the room and a bullet broke the glass, the window, and got stuck in the dresser," said Mariya Zhelezova, 74, in the country town of Bucha. "The second time, shattered glass almost got into my leg."
Article content
Russia has depicted its drawdown of forces near Kyiv as a goodwill gesture in peace talks, which last convened on Friday. Ukraine and its allies say Russia was forced to shift its focus to east Ukraine after suffering heavy losses near Kyiv.
Since sending troops on Feb. 24 in what it calls a "special operation" to demilitarize its neighbour, Russia has failed to capture a single major city and has instead laid siege to urban areas, uprooting a quarter of Ukraine's population.
Ukraine's Deputy Defence Minister, Hanna Malyar, wrote on Facebook that the "whole Kyiv region is liberated from the invader." There was no Russian comment on the claim, which Reuters could not immediately verify.
Article content
In the recaptured town of Bucha, reached by Reuters, the sprawled remains of more than a dozen bodies lined one road. A mass grave in the grounds of a church was still open, with hands and feet poking through the red clay heaped on top.
Bucha's mayor, Anatoliy Fedoruk, said more than 300 residents had been killed. Many tearfully recalled brushes with death.
"We don't want them to come back," said Mariya Zhelezova, 74, who spoke of coming under fire by Russian soldiers. "I had a dream today – that they left, and didn't come back."
British Foreign Secretary Liz Truss said she was appalled by atrocities in Bucha and voiced support for the International Criminal Court's inquiry into potential war crimes in Ukraine.
Russia denies targeting civilians and rejects war crimes allegations.