Reichmann v. Reichmann: Messy feud involving secretive Canadian business family heads to open court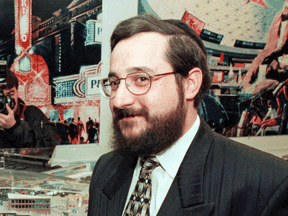 Abraham Reichmann filed his claim back in 2014 — complaining he had been financially cut off by his parents, Ralph and Ada Reichmann — but it is only now finally scheduled for trial. Photo by Juan Fanzio/Postmedia/File
The Reichmann family climbed higher than almost everyone. They were named the fourth richest family in the world before the visionary Canadian tycoons' fortunes waned, to the point of their marquee company going bankrupt in the 1990s.
Once the talk of the town — of many towns, in many countries — the family whose every handshake seemed to make headlines has since been reclusive; on Monday, however, several members of the Reichmann clan will be in court to settle a messy family feud.
"They weren't as flashy, they weren't as publicity seeking, and they certainly weren't as notorious as so many billionaires are today with their spending habits."
Even a judge hearing pre-trial motions on the case, back in 2015, offered advice from the bench: "This case cries out for settlement."
It was not to be.