Senate bill would allow Canada to seize sanctioned Russian assets and give the money to Ukraine
Sen. Ratna Omidvar said her bill is about giving sanctions teeth so that people engaged in corruption or human rights abuse know that they will permanently lose money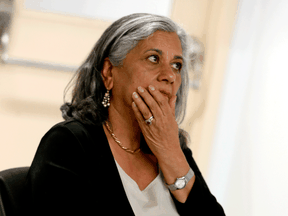 Independent Senator Ratna Omidvar's bill — the Frozen Assets Repurposing Act — would give the federal government a process for seizing frozen assets and donating them to humanitarian groups or foreign governments. Photo by Veronica Henri/Postmedia/File
OTTAWA — A bill working its way through the Senate would give Canada the authority to take Russian oligarchs' ill-gotten riches and turn the money over to the rebuilding of Ukraine.
Independent Senator Ratna Omidvar testified Thursday in front of the Senate committee on Foreign Affairs and International Trade about her bill — the Frozen Assets Repurposing Act — that would give the government a process for seizing frozen assets and donating them to humanitarian groups or foreign governments.
Omidvar said her bill is about giving sanctions teeth so that people engaged in corruption or human rights abuse know that they will permanently lose money they were never entitled to.
"It provides the real cost to bureaucrats who have stolen from the public purse and brought disaster and indignity on their own citizens by confiscating and repurposing stolen assets to the victims," she said.
Her bill sets out a court process where the Canadian government could push for frozen assets to be confiscated and then transferred either to foreign governments or to refugee agencies or other humanitarian groups to help with a crisis.
Article content
She said if corrupt officials or Russian oligarchs knew their assets were being permanently seized it might encourage them to pressure President Vladimir Putin to change course.
"It is not inconceivable that such an action could lead to a chilling effect on other oligarchs who may change their behaviour," she said. "For far too long, corrupt foreign officials have acted with impunity. Calling them out is not enough. We have to make them pay."
Canada has sanctioned hundreds of Russian officials, oligarchs and even media personalities since the invasion of Ukraine began on Feb. 24. The sanctions have frozen assets and prevented Canadian banks from doing any business with those on the list, but the assets could be returned if the sanctions are lifted.
Article content
The senator's bill outlines a court process by which the government would have to make a case to have the assets seized or sold and provide a plan for how the proceeds would be spent. The decision on where the proceeds would go would be left up to a federal judge.
Omidvar has tabled the bill twice before; it was reintroduced in the Senate for a third time in December. She said while the world is rightly focused on Ukraine, there are other humanitarian crises that could use funding from frozen assets.
"The Rohingya refugees, a million of them, are living in complete squalor in Bangladesh. South Sudan has generated refugees to Uganda, and the names of the warlords are on sanctions lists. Venezuela, which has generated millions of refugees into Colombia, President Maduro was named on the sanction list," she said.