Shaquille O'Neal given stark health warning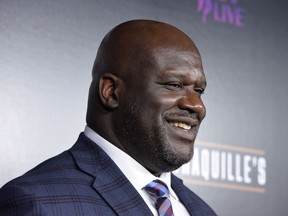 NBA legend Shaquille O'Neal attends the grand opening of Shaquille's At L.A. Live at LA Live on March 9, 2019 in Los Angeles, Calif. Photo by Michael Tullberg /Getty Images
Shaquille O'Neal was warned he "could die" without medical treatment.
The 50-year-old basketball star was stunned when he visited his doctor for the first time "in a while" and was diagnosed with sleep apnea – a condition where sufferers stop breathing when they're asleep and can lead to stroke or hypertension – and he now needs to use a CPAP machine and an oxygen mask to assist him at night times for the rest of his life.
The sporting legend was "dependent" on painkillers but ordered to stop taking prescription medication as it has taken a toll on his organs.
He said: "(The Doctor said) 'All those painkillers you were taking, bro? Your kidneys are kind of weak. No more painkillers.'
"I was dependent upon painkillers – not addicted.