Starting Friday, vaccinated travellers to Canada don't need a COVID-19 test
The change is a departure from Canada's policy since the early days of the pandemic, and the struggling tourism industry describes it as a major boon.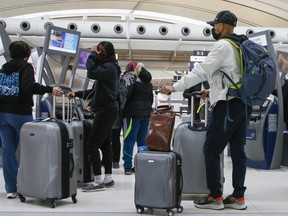 Travellers at Pearson International Airport on Friday March 11, 2022. Photo by Veronica Henri /Postmedia Network
OTTAWA — The eye-watering sensation of a swab up the nose will no longer be a cost of admission to Canada for vaccinated travellers as of Friday.
The government announced it would do away with the requirement for COVID-19 tests for people protected against the virus two week ago.
The change is a departure from Canada's policy since the early days of the pandemic and has sparked a surge in travel bookings to and from Canada.
Travellers could still be randomly tested when they arrive in Canada, but dropping the requirement for a test prior to arrival in Canada is expected to have a big effect on people's decision to travel.
"We know that we will see a surge in bookings," said Beth Potter, president of the Tourism Industry Association of Canada, though she said the volume is unlikely to return to pre-pandemic levels.
Article content
"This is directly as a result of the travel advisory being lifted, testing scrapped April 1, and increasing consumer confidence," he said.
Still, Canada has a ways to go to let the world know it is ready to welcome visitors, Potter said.
"Because our borders were closed for so long, longer than other countries in the in the G7 In particular, we kind of have a branding that says Canada is closed for business," she said.
Many voices, including the federal Conservatives, have called on officials to do away with vaccine requirements for travel, or at least share more information about when the government plans to take that next step.
"We need to be sending the signal that travel is safe now, and lifting vaccine mandates. That would, I think, really help to rebuild confidence in travel again," Potter said.
Article content
Even so, it's also possible the government could reinstate border restrictions in response to worsening COVID-19 conditions in Canada and abroad.
When Health Minister Jean-Yves Duclos announced the latest change, he said it was possible because of declining test positivity rates at the border and improved vaccination rates among Canadians.
However, epidemiologists have begun to warn of a new wave of the virus, driven by a more contagious subvariant of Omicron called BA. 2, or stealth Omicron.
Most provinces don't provide widespread molecular tests so it's impossible to know how many people have COVID-19 in Canada. Between March 13 and 14 about 13.8 per cent of COVID-19 tests were positive across the country, the Public Health Agency of Canada's data shows.