Terminally ill patients the first in B.C. to consume legal supply of magic mushrooms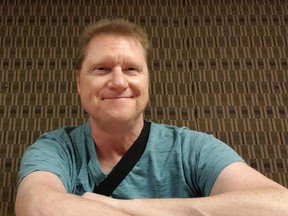 Saskatchewan's Thomas Hartle, 54, is one of five terminal cancer patients who will begin psychedelic therapy on Sunday, April 3, 2022, in Nanaimo. Hartle will use psilocybin to help cope with the anxiety surrounding his diagnosis. Photo by Thomas Hartle /PNG
Five terminal cancer patients have been granted Canada's first legal, domestic supply of magic mushrooms to treat their end-of-life anxiety.
One of them, 54-year-old Thomas Hartle, arrived at Nanaimo airport Saturday morning from his home in Saskatoon to participate in psychedelic therapy using psilocybin, the active ingredient in magic mushrooms, which he hasn't been able to legally do since August, when his one one-year exemption from the Controlled Drugs and Substances Act expired.
In January, Health Canada restored the ability of doctors to request access to psilocybin after excluding the non-market prescription from its Special Access Program (SAP). Now terminally-ill patients can access the drug if it is administered in a clinical setting.
Roots To Thrive doctors had their SAP requests for the patients approved last week and plan to distribute prescriptions from Calgary's Psygen Labs to the group Sunday as individuals of the group set their intentions for their trip.
Hartle, who first underwent the treatment in Saskatchewan by ingesting magic mushrooms he grew himself, has a goal of coming to terms with dying.