The AMC Gremlin was the best April Fool's joke a car company ever made
Sure, it wasn't a great car, but that was kind of the whole point of the thing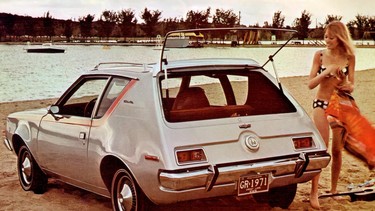 The 1971 AMC Gremlin Photo by American Motors
The automotive world is full of wheeled punchlines, from the Ford Pinto to the Pontiac Aztek. And you have to think Hyundai hates it when, every time they roll out a new car, some Canadian autowriter feels the need to mention the entirely disposable Pony. But, on April 1, be it determined that there has never been a bigger April Fool's joke than the AMC Gremlin.
We're speaking literally here. That chunky little doorstop of a car was launched on April 1, 1970. Looking backwards, it's hard not to laugh, just as we do at all the various bad fashion decisions of the 1970s. Was AMC joking? It'd styled a car that looked like a shoe, and named it after a mythical creature associated with disastrous mechanical failure. Considering this was just three years after the so-called "Summer of Love," clearly, somebody had been smoking something.
Not bad for a car designed on a barf bag (more on that later). Considering what passes today for an April Fool's joke from automakers – remember that whole stupid Voltswagen thing? – the Gremlin was at the very least a successful prank. It took a dose of humour and some shoestring budget engineering and created a lasting cultural impact.
But salvation was at hand in the form of designers Dick Teague and Bob Nixon. Teague had cut his teeth styling cars at Packard, and was used to working on a budget that amounted to pocket lint. Nixon was the size of an NBA player, so being in charge of AMC's small-car design section was a slight irony.
Critics, which included many a bystander at a gas station, liked to point out that the Gremlin resembled an AMC Hornet with the back unceremoniously chopped off. They had a point, but AMC's work done to shorten the Gremlin to a 2.4-metre (94.5-inch) wheelbase and four-metre (157.5-inch) overall length made it a genuine subcompact rival to the Beetle. And you got a heck of a lot more power out of a Gremlin than you did in any Volkswagen.