The rate hikes cometh: How to get your mortgage ahead of a rising rate environment
Mortgage holders will have to perform personal 'stress tests' to determine how each rate increase will hit their pocketbooks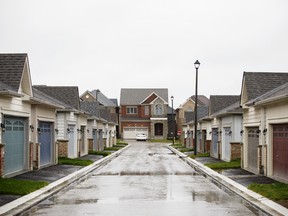 Mortgage holders are keeping a keen eye on the path of rate hikes and what they mean for growing monthly costs. Photo by Cole Burston/Bloomberg

When the Bank of Canada raised its benchmark interest a quarter point to 0.5 per cent in early March, it made clear that more increases were on the way.
"The economy is now in a place where moving to a more normal setting for interest rates is appropriate," Tiff Macklem, the central bank's governor, said in a speech.
Article content
First off, not all mortgage holders will be impacted equally: while fixed-rate mortgage holders will largely be shielded from the impacts of rising rates until their mortgages are up for renewal, variable-rate mortgage holders will see their rates rise with each change in monetary policy. Canada's largest lenders raised prime rates to 2.7 per cent from 2.45 per cent shortly after the Bank of Canada lifted the benchmark rate.
Mortgage broker Ratehub.ca crunched some numbers following the Bank of Canada's announcement. Ratehub's model was based on a homeowner who had put a 10-per-cent down payment on a $700,000 home, and had chosen a five-year, variable-rate mortgage with a starting rate of 0.9 per cent, amortized over 25 years.