This Week in History, 1918: The Orpheum Theatre catches fire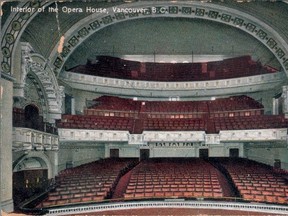 Vintage postcard showing interior of the Vancouver Opera House, which became the Orpheum Theatre from 1913 to 1927. PNG
Theatre fires were a recurring problem in the late 19th and early 20th centuries. The deadliest was at the Iroquois Theatre in Chicago on Dec. 3, 1903, when 602 people died, the most fatalities in a single-building fire in American history.
Vancouver wasn't immune to the problem. On March 19, 1909, the "picture machine" at the Majestic Theatre at 410 West Hastings burst into flames, leading to the evacuation of 350 patrons.
The "palatial building" was the former Vancouver Opera House at 761 Granville, which was called the Orpheum at the time — the current Orpheum opened in 1927 as the "New Orpheum."
About 1,500 people were at the theatre to see the Greater Morgan Dancers in a "historical ballet in three episodes." The fire broke out "under the floor of the first balcony" at the evening performance, but the audience were ushered out without any injuries.
Orpheum manager James Pilling went onstage to tell the audience "there was absolutely no danger, but that it was deemed advisable to empty the theatre as quickly as possible." The orchestra at the Orpheum, and the Morgan Dancers, continued to perform while the audience filed out.