Time getting tight for organizers of Vancouver's Formula E race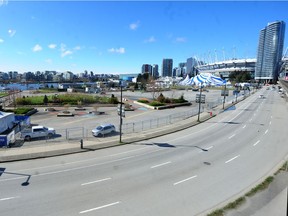 E-Fest organizers say they are close to wrapping up deals to use several properties in Northeast False Creek for the proposed Formula E race in July. Photo by NICK PROCAYLO /PNG
The mood was apprehensive on a quickly organized Zoom call Friday with several parties concerned about the status of the Canadian E-Fest, a Formula E electric car race scheduled for Vancouver this summer.
During the course of the hour-plus conversation, concerns were raised about unpaid deposits, missed deadlines and contracts not yet executed, according to people on the call. The call included people from city hall and local organizations including suppliers and property owners. The organizers and promoters of E-Fest, a Montreal-based firm called OSS Group, were not invited.
This will be Vancouver's first time holding the Formula E Championship, an electric car race series which launched in 2014 and this season includes 16 races in cities around the globe.
On Friday, Carter confirmed the expected $350,000 security deposit had been paid to the city by wire transfer, and said the remaining contracts would be signed by all parties soon. OSS — the One Stop Strategy Group — paid an earlier $150,000 deposit to the city in February.
Vancouver's deputy city manager, Karen Levitt, was on Friday's Zoom call, but later refused to discuss the call in detail.