Ukraine: Bodies, rubble line the streets of Bucha following Russian retreat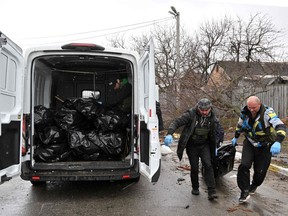 Communal workers carry a body of a civilian man killed by Russian troops shelling in town of Bucha, not far from the Ukrainian capital of Kyiv on April 3, 2022. Photo by SERGEI SUPINSKY/AFP via Getty Images
Video posted to social media on Saturday and verified by The Washington Post showed at least nine people, including one child, lying in the street of a residential area in the town of Bucha, north of Kyiv, after Russian forces retreated. They appear to be dead.
One, still atop a bicycle, lies at the corner of an intersection. He is tilted as though he was about to make a right-hand turn. Others are huddled together on the side of the road.
Russian forces withdrew from Bucha, a town of 37,000 northwest of Kyiv, and other suburbs of the capital in recent days, leaving a trail of destruction. Russian troops fought for control of Bucha starting on Feb. 27 — three days after the invasion began — and "relentless shelling" trapped residents in homes and shelters without electricity or gas, according to Human Rights Watch. The fighting took out the city's water tower a week later.
Human Rights Watch interviewed residents who described Russian soldiers looting houses and recounted hearing reports of civilians being shot while attempting to get water. One woman said Russian soldiers had threatened to shoot her if she tried to retrieve her husband's body.