Ukrainians harvesting soldiers' organs? Canada's digital spy agency warns of new Russian disinformation
The Communications Security Establishment has found evidence that Russia is promoting horrible and fake stories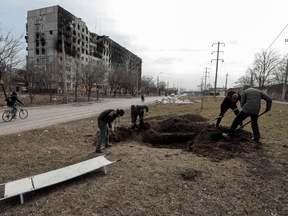 People dig a grave for victims killed during Ukraine-Russia conflict in a street in the besieged southern port city of Mariupol, Ukraine, March 20, 2022. Photo by Alexander Ermochenko/Reuters
OTTAWA – Ukrainians harvesting fallen soldiers' organs and Russian anti-war protesters supporting "neo-Nazis and genocide" are just some of the disinformation campaigns Russia has conducted online since it launched its invasion of Ukraine, according to Canada's cyber security agency.
In posts on Twitter Friday morning, the Communications Security Establishment (CSE) said it was sharing information from its classified reporting on Russia's latest disinformation campaigns to help protect Canadians who may fall prey to the country's propaganda.
"Since Russia's brazen and unjustifiable invasion of Ukraine, we have observed numerous Russia-backed disinformation campaigns online designed to support their actions" namely by creating and spreading false information about both Ukrainians or anti-war protesters in Russia, CSE wrote on Twitter.
CSE said it had found evidence that Russia was promoting horrible and fake stories saying Ukraine was "harvesting organs of fallen soldiers, women and children" and then hiding the evidence through mobile cremating devices.
Article content
"Russia has created and amplified fake stories and narratives falsely claiming that only military targets were being attacked, and that civilian causalities in Ukraine were lower," CSE wrote.
But Russia's disinformation efforts haven't just targeted Ukrainians, but also its own people that don't support President Vladimir Putin's decision to invade its western neighbour.
For weeks, thousands of Russians have defied their country's draconian censorship laws to host daily anti-war protests around the country. Three weeks after Russia invaded Ukraine on Feb. 24, nearly 15,000 people were detained for protesting and sometimes tortured, according to human rights organizations.
"We've seen Russia's efforts to promote stories that falsely categorize Russian protesters and citizens opposed to the invasion as supporting neo-Nazis and genocide," CSE warned Friday.
Article content
Canada's spy agencies have repeatedly warned that Russia was one of the biggest backers of cyberthreats against this country, with cyber attacks being our greatest strategic threat right now.
CSE and the Canadian Security Intelligence Service (CSIS) have been particularly attentive to Russian-backed cyber threats since Putin decided to invade Ukraine, meaning his country likely increased its cyber activity, including cyber attacks and online disinformation campaigns, against hostile countries such as Canada.
During a committee meeting earlier this week, CSIS assistant director Cherie Henderson described Russia as an "extremely capable threat actor" who was known to engage in disinformation campaigns to further its interests and hamper its opponents in the West.
"We also know that Russia covertly gathers political, economic, military information in Canada through targeted threat activities in support of their own interests," she added.
During the same meeting, the head of CSE's Canadian Centre for Cyber Security Sami Khoury warned MPs — and by extention Canadians — to be particularly weary of Russian-backed cyber threats.
"I would suggest that in the current context we have to be mindful of the geopolitical tensions …  and the Russian cyber threat," he said.