Used Guide: 2018+ VW Tiguan
Top 5 tips to find a first-class example of a second-hand Volkswagen Tiguan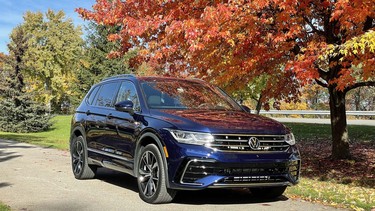 2022 Volkswagen Tiguan Photo by Graeme Fletcher
Riding a lengthened wheelbase on an all-new platform, model-year 2018 marked the debut of an all-new Volkswagen Tiguan. This generation Tiguan is dubbed 'MQB', referencing its new platform architecture, which laid the foundation for numerous improvements over the original Tiguan in terms of refinement, space, tech, and driving dynamics.
The new-for-2018 Tiguan's size was pushed up a few notches to make way for a new baby brother model (the Volkswagen Taos), which would hit the market a few years later. Accordingly, the MQB-generation Tiguan clocked in at over 10 inches longer than the first-generation machine, and offered up to 58 per cent more cargo space. 
If you'll have a diagnostic scan performed on the used Tiguan you're considering, be sure to have it performed by a professional and ideally in a dealer setting. Note that Tiguan models from 2018 onwards use a new generation of on-board electronics that requires specialized equipment for the most accurate scan results. A lower-end diagnostic scanner may still generate useful results, but won't likely provide a full picture of the vehicle's health situation.
Additionally, the installation of non-factory parts and (especially) electronics can immediately void powertrain warranty coverage, resulting in headaches and surprises down the line if a repair is required.