Vancouver park to be scanned for unmarked graves near former orphanage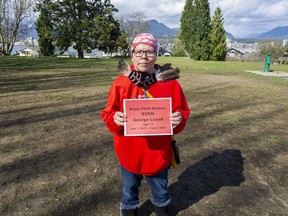 Leona Brown, seen here on the site of the old orphanage at Burrard View Park in Vancouver. Photo by Arlen Redekop /PNG
In January 1927, 14-year-old George Leask and his siblings were taken from their home on Quadra Island and put in a notorious orphanage in east Vancouver, where he survived for only a month before dying of pneumonia.
The newly discovered details about the death of this Indigenous boy — and the potential that other youngsters may have died in the orphanage and two nearby institutions for children — has prompted the Vancouver park board to order an archeological assessment of the land where these buildings once stood.
"I hope there is not more past injustices discovered on this land," said park board Commissioner Gwen Giesbrecht.
The popular three-hectare park, at Wall and Penticton streets, has a playground, off-leash dog area, field house with community programming, and a daycare. The area looks very different today than it did more than a century ago: Between 1906 and 1930, the orphanage, a so-called "babies cottage," and a juvenile detention centre were all built on the land.
The orphanage, which was run by the Vancouver Children's Aid Society but came to be known as the Wall Street Orphanage, was harshly criticized by the provincial government for failing to keep its wards healthy and safe, and the head of the society faced several charges, including running the home in an "inhumane manner," according to several newspaper stories from the late 1920s.