Vancouver's quirky history emerges in old manhole cover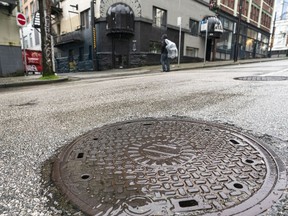 A CPR manhole cover probably dating to the 1890s sits outside 424 Homer St. in Vancouver on March 23. An 1892 building that used to contain The Vancouver World's printing presses is in the background. Photo by RICHARD LAM /PNG
Sometimes you find Vancouver history in the oddest places.
A manhole cover outside 424 Homer St. reads "CPR," for Canadian Pacific Railway. It may date to the 1890s when what we now call Crosstown — the low-rise commercial area between Gastown and downtown — was a pretty happening spot.
Atkin explains that private companies sometimes put their own manhole covers on top of infrastructure they built under the streets.
"When you walk around you can still see old B.C. Electric Railway manhole covers in Strathcona," he said. "Then you've got B.C. Electric (manhole covers), then B.C. Hydro (which took over B.C. Electric in 1962). Telus still has their own manhole covers."
In this case, Atkin thinks the CPR manhole is a link to "whatever services they might have had that probably connected the train station, the hotel and ticket offices, stuff like that."