Vaughn Palmer: Secrecy over Site C could be why NDP willing to cut deal with First Nation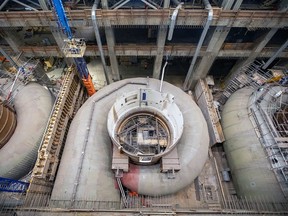 Work in the Site C project powerhouse in February, 2022. Photo by B.C. Hydro /PNG
VICTORIA — B.C. Hydro's latest update on Site C includes major news on the litigation front, with the adjournment of a legal action that was expected to shine an unflattering spotlight on the controversial project.
The West Moberly First Nations was headed to court this spring, seeking to halt Site C because the dam violates its treaty rights and threatens its traditional territory along the Peace River in northeastern B.C.
Milburn was appointed by Premier John Horgan shortly before he called a snap election in September 2020.
There's evidence that B.C. Hydro and the government knew about the geotechnical instability months before the problem was made public.
But the timing of the Milburn appointment provided cover for the premier in his successful drive for re-election.